Spring is in the air and you may be looking at the outside of your home thinking that it needs a little bit of a facelift. Here are some easy and inexpensive ideas to give your home a little more "curb appeal".

Front Door
A fresh coat of paint on your front door will improve the entire entry. While white or black are always appropriate colours, consider adding spice to your house by going with a bright front door. A forest green or deep red are excellent choices that match most typical house colours, and add a cheerful touch without being overwhelming. If your house has entry steps leading up to the front door, paint any railing or balustrades. Black wrought iron, or wooden trim painted to match the house trim will be fresh and tidy looking.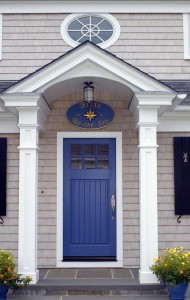 Update Front Door Hardware
Now that your door is freshly painted, replace the hardware with bright, new models. A new doorknob, deadbolt lock, and hinges will make your door look brand new. Replace your doorbell with a new unit that has a pleasing ring or tone. Look for one with attractive metal embellishments around the button. Adorn your door with a doorknocker that adds flair or hang a wreath to make your home welcoming.
Improve Lighting
You can find a vast assortment of outdoor lighting fixtures at any home improvement center. Replace your entry light with a stylish new fixture, looking for one that matches any wrought iron trim, or the metal of your front doorknob. Use energy-efficient bulbs and light your front walkway thoroughly, especially near any steps.
Address Numbers
Make your address easy to see.
Having your home clearly marked with the address number has several benefits: emergency personnel can easily find your address; visitors can spot the right number, and you can add a decorative touch with the address. Depending on the style of your home, you might want to install a beautiful mosaic with your address, hang brass numerals, or even install a lighted plaque.
It doesn't take a lot of time, effort, or money to make the big difference in your front entryway. Spend a weekend making small improvements, and your home will be more welcoming, attractive, and pleasing to you and your visitors.
Idealhomegarden.com